Looking to transform your space with lighting? Need inspiration to show and discuss with your lighting design consultant? If so, you're in the right place.
It can be difficult to express your ideas when it comes to lighting, so finding images that best represent your thoughts can help steer your lighting design consultant in the right direction. Here are five of the best places to gather lighting design inspiration for your next project.
Pinterest
A quick search for 'lighting' on Pinterest and you'll be faced with thousands of inspiring images. If you're looking to light a specific room, search 'kitchen lighting' or 'kitchen island lighting' to be even more specific. The options are endless, and with the large amounts of images being uploaded every day, you're highly likely to come across images for inspiration.
Pinterest is full of inspiration and gives you the option to 'pin' images to your very own Pinterest boards. This allows you to sperate your images into boards for each room in your home. From there, you can share your Pinterest boards with your lighting design consultant via the share option in Pinterest – a great way to express your ideas with your lighting design consultant.
Why not take a look at Hampshire Light's Pinterest. We've created several boards with images from our lighting design portfolio to help inspire your next project. Our Pinterest boards consist of kitchen lighting, bathroom lighting, garden lighting, cinema room lighting and more. Check it out, feel free to pin your favourite images and contact us if you'd like to discuss how we can create something similar for you.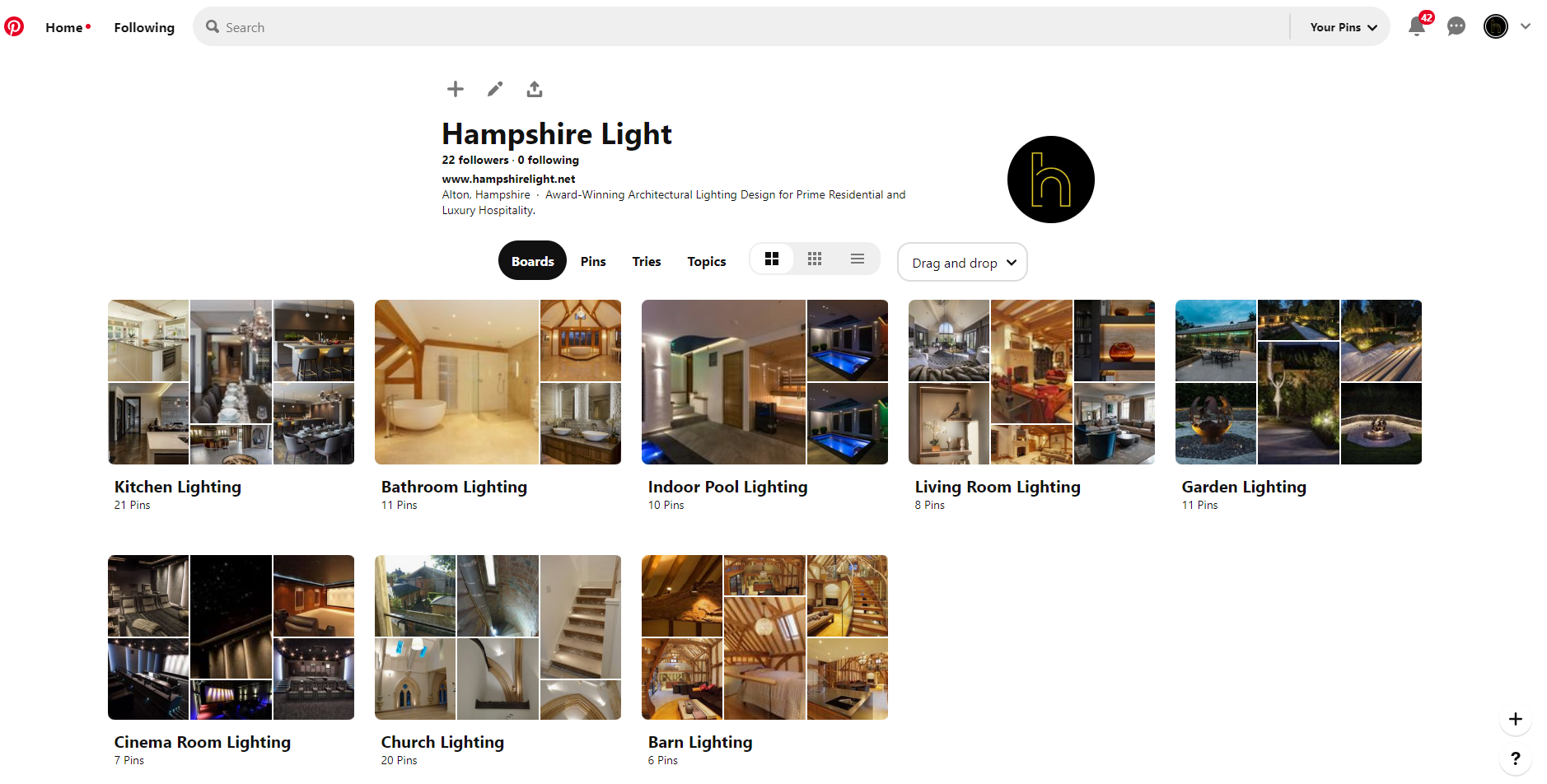 Instagram
More than 95 million photos are uploaded to Instagram every day. That's over 1,000 images uploaded every second. You won't have to look far to find lighting inspiration here.
Using Instagram's hashtag feature, you'll find lighting images relevant for your project. Here are a few hashtags you can browse to find your lighting design inspiration:
Setting aside hashtags, be sure to look at several lighting designer's Instagram profiles for inspiration from the very best. When discovering images, take a screenshot, or save to your Instagram account and share them with your lighting designer. Check out Hampshire Light's Instagram page, and don't forget to send us a direct message to find out how we can transform your home with light.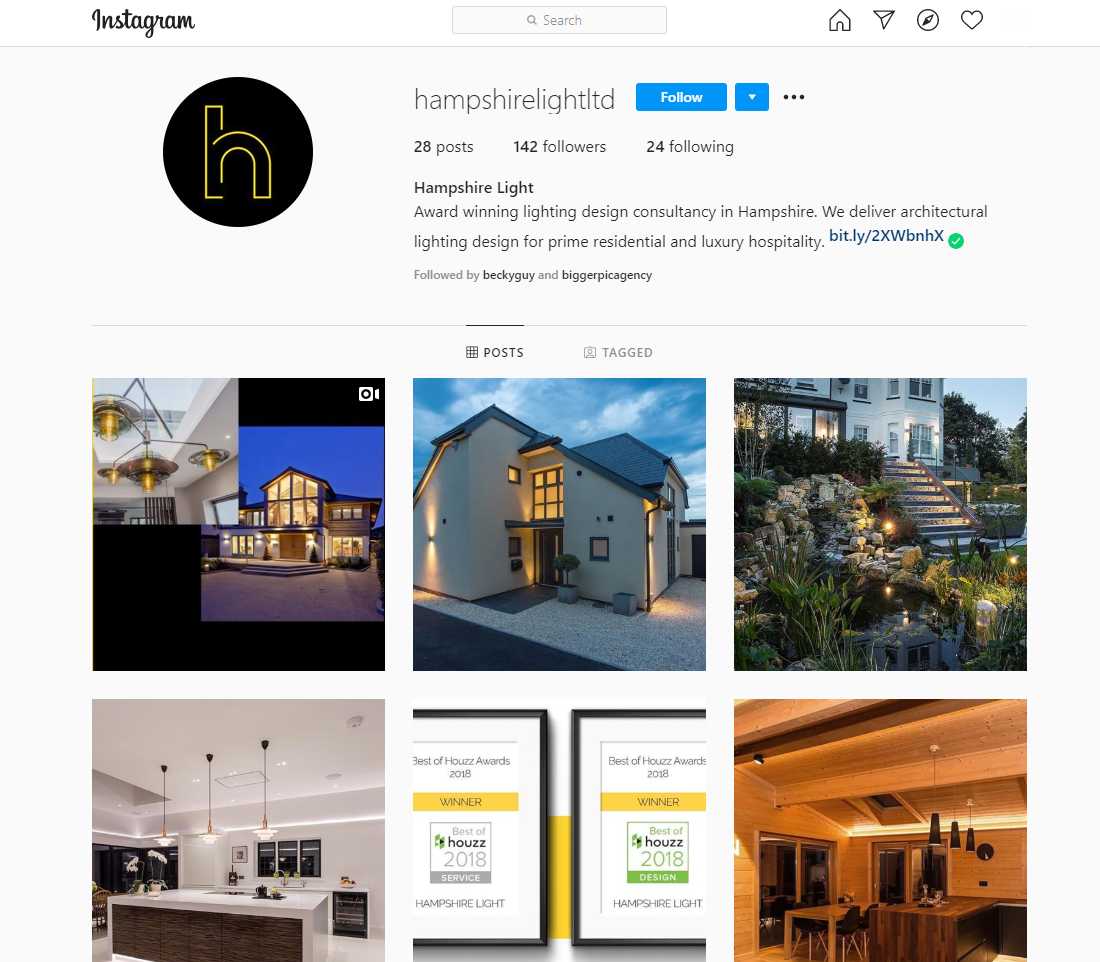 Houzz
If you haven't come across Houzz before, it's a website used by homeowners looking for interior designers, architects, landscape designers and general home improvements. Once on the Houzz website you can find professionals, seek advice, view products, stories and browse through over 20 million images.
With the use of the filter options and search functionality, you can narrow your image search down to 'lighting design'. At the time of writing (15/05/2020) a search for 'lighting' results in 3 million lighting design images. So, if you're looking for lighting design inspiration, Houzz won't let you down.
Another way to find lighting inspiration using Houzz is through their 'find a professional' feature. Choose 'lighting' under the 'suppliers' tab and you'll be faced with a screen of nearby lighting designers. Click into the results of your choice and view each of their listed projects for more information.
Discover Hampshire Light's Houzz profile and take a look at some of our recent projects for inspiration.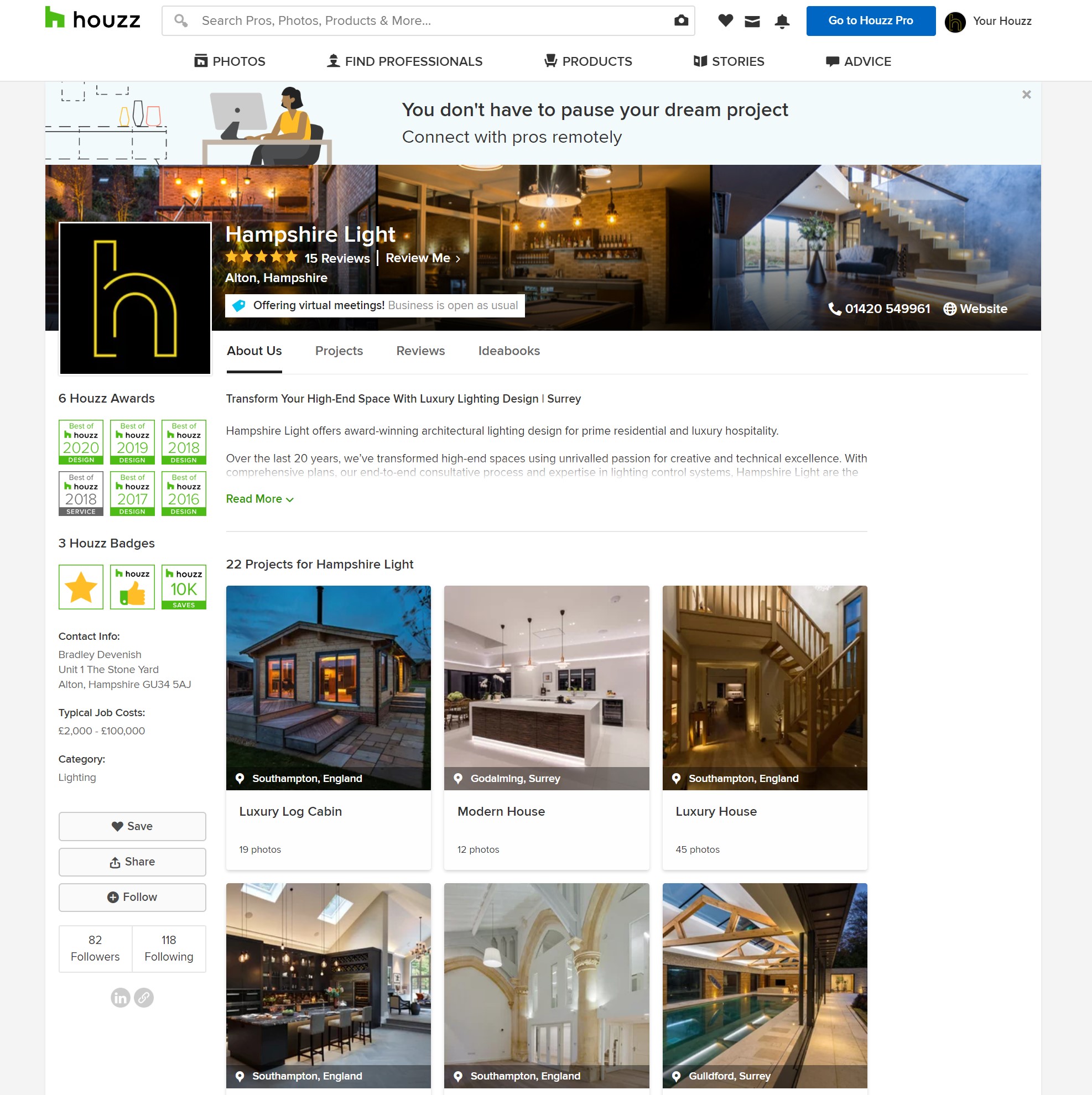 Google
With billions of images on Google, it's a great place to search for lighting inspiration. The useful thing about using Google for inspiration is the recommendations you'll receive. For instance, if you're searching for 'kitchen lighting' you'll see a scrolling bar of ideas based on what others are searching for. These may include LED, pendant, modern, rustic, under cabinet ideas and so much more. Be sure to click on the recommendations relevant to your project.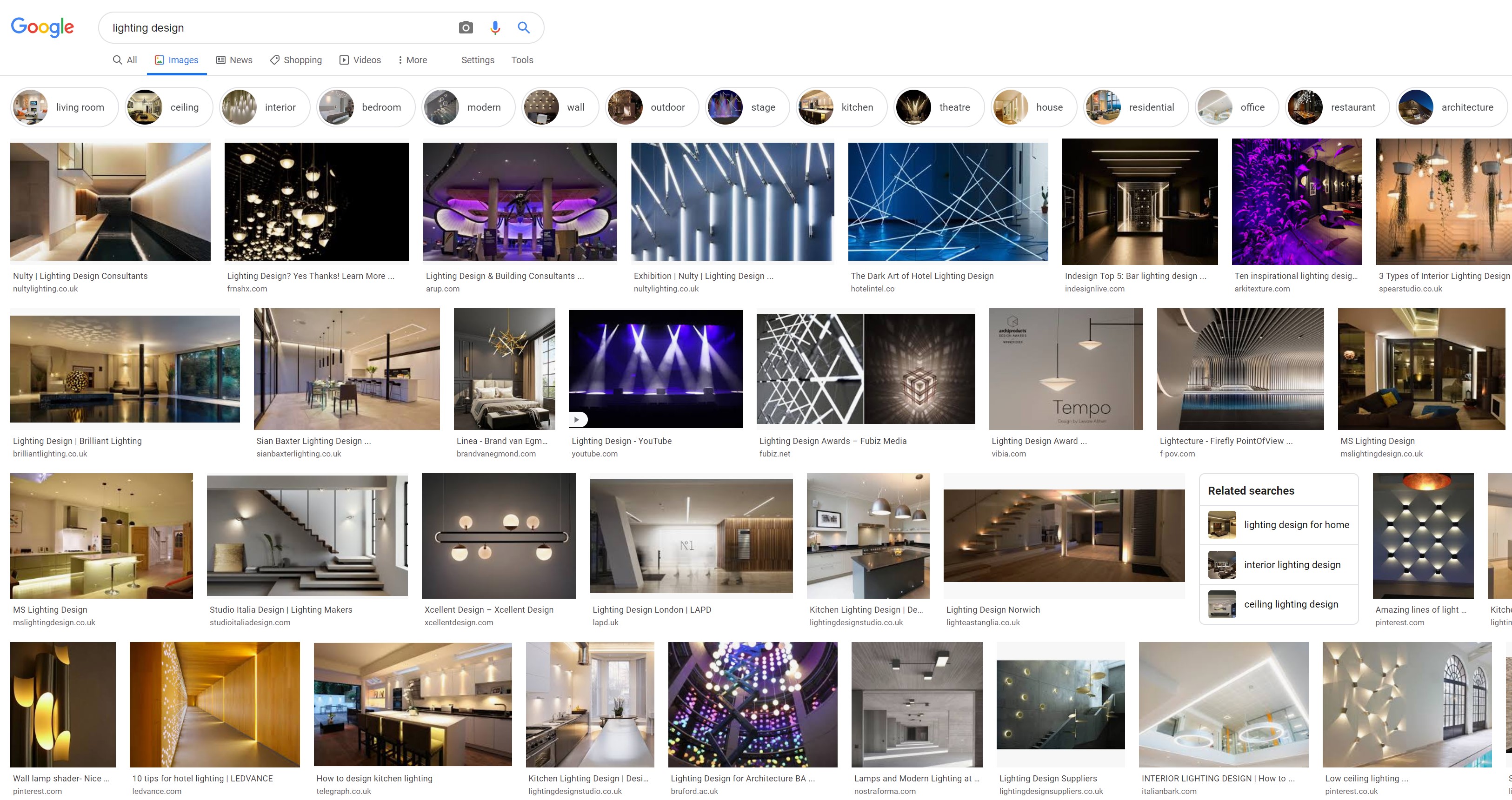 Hampshire Light's Portfolio
Looking at lighting design consultants portfolio's is a must when searching for inspiration. With information alongside images, you'll receive a really good understanding of why certain lighting has been chosen and the effects they create within a space. So make sure to have a look at Hampshire Lights lighting design portfolio for inspiration on your next project.