When done right, landscape lighting has the power to transform your outdoor space into a place of beauty. But that's easier said than done. In order to achieve a superior lighting scheme, expertise, lighting knowledge, and an eye for design is a must. Here, we go through the basics of landscape lighting design, give an overview of the various types of lighting used, and explain their functions.
But first of all, let's explore what landscape lighting design is and why it brings so much value to an outdoor space.
What is landscape lighting design?
Landscape lighting, or garden lighting refers to the use of outdoor illumination for gardens, public landscapes, and private lands. There are two core objectives that landscape lighting focuses on. The first being aesthetics, and the second being safety/security.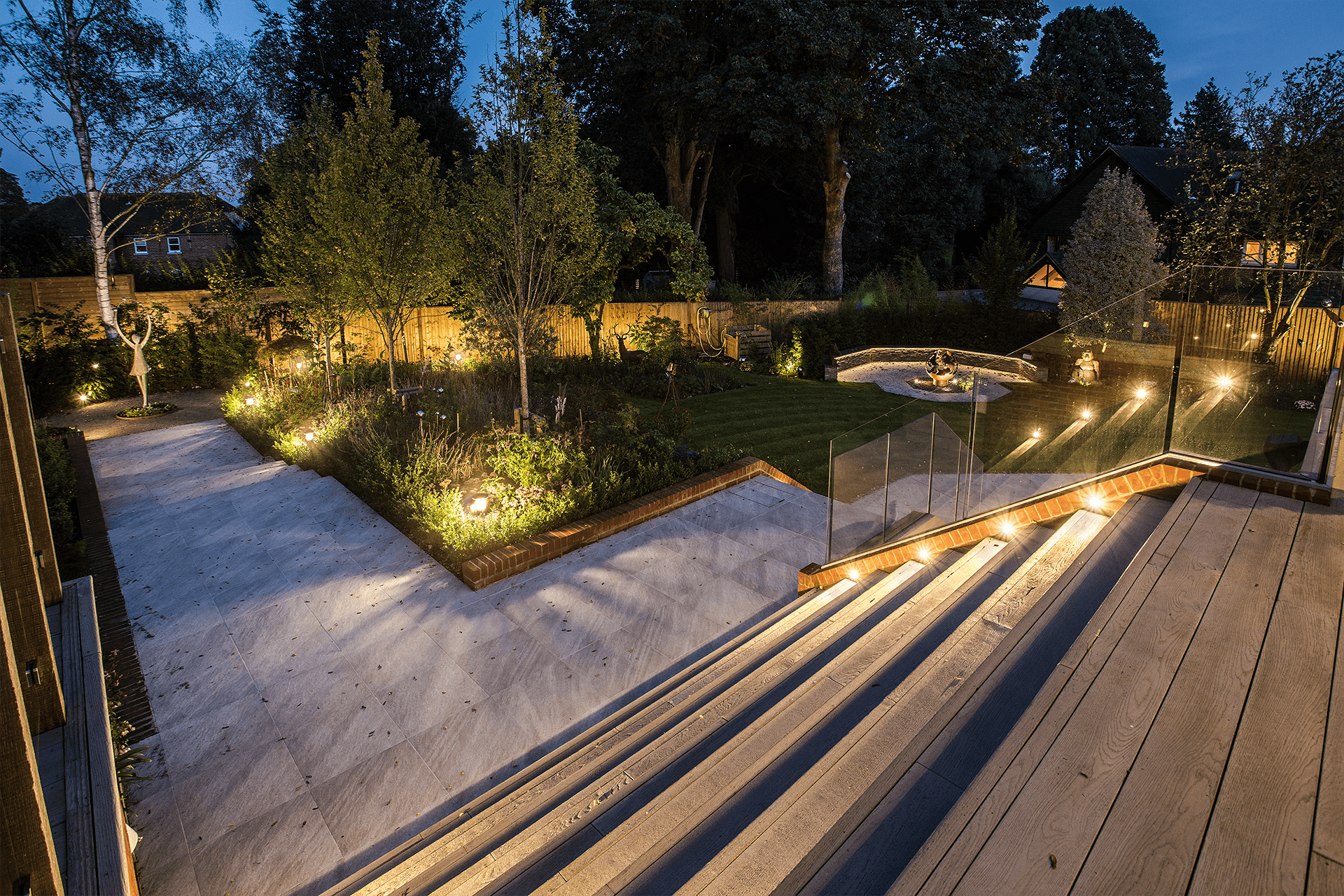 Aesthetics with landscape lighting
What makes an outdoor space so unique, is the use of light during darkness. By highlight features, creating shadows and contrast, light helps to build an intriguing and dramatic space that will inspire you to stay.
Safety & security with landscape lighting
Enhancing the aesthetics of an outdoor space is great, but certain places require lighting design to improve safety and security. For example, recreational grounds, listed buildings, and valuable homes will need landscape lighting to help keep them safe. This doesn't mean the aesthetics can't be looked at too, but there are times where safety comes above all. In fact, this study shows that outdoor lighting has the power to cut crime by a staggering 39 percent.
How do you illuminate a garden?
The first step to lighting your garden is to know what you want to highlight. There are several ways to illuminate your garden, including:
Pathway lighting – Whether you have a side passageway leading to a gate, or a pathway leading to the end of your garden, even simple guide lights can help transform the outside of your home. Not only do they look great, but they provide a safe way to manoeuvre around your garden.
Flower bed lighting - Typical gardens will have flower beds located around the perimeter next to the fence. By adding lights to flower beds and angling them towards the fence or up at small trees/bushes, you can help draw the eye away from the lawn, making the garden feel wider and more spacious.
Tree lighting – If your garden is inhabited with trees, bring them to life with uplights. Just a single light placed beneath each tree can be angled towards the trunk to create a stunning visual effect with strong shadows.
Deck lighting – Decked areas can be lit in a variety of ways to create a fabulous finished look. By embedding lights into the timber panelling, around the seating area, or the steps, you can really draw the eye.
Feature lighting – Garden that focus less on plants can highlight their furniture using feature lighting. Even the simplest design features can look incredible with the right use of lighting.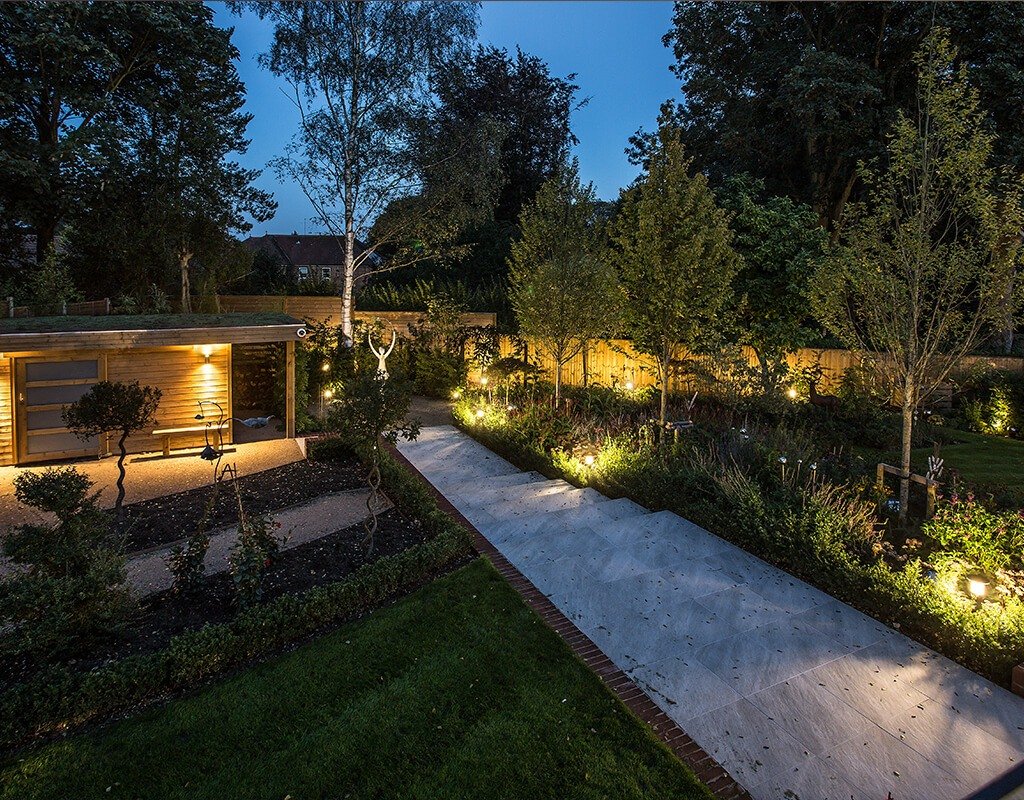 What lights should I use for landscape lighting?
In order to achieve an effective landscape lighting scheme, you need to be aware of the types of lights available, the effects they can create, and where they're typically used.
LED spotlights can be used to make tress, plants and shrubbery stand out. You can also choose to light fountains, gazebos, statues, and any other garden features. When mounted at the right height and angled properly, a moon-lit effect can be projected onto the ground beneath. This helps to eliminate the feel of unnatural light.
Waterproof spotlights are safe to use in and around water. They're perfect for creating a soft glow beneath ponds and around fountains. These lights usually come with a weighted based to keep them from moving in the water.
LED well lights can be used similarly to LED spotlights. However, if you're looking to illuminate a tree trunk from below, it may take several well lights to achieve your desired effect. Well lights are perfect for striking the sides of a building, especially columns and any other architectural features. They're mounted flush with the ground so look incredible too.
Waterproof well lights are usually placed in the ground of a pond to shine upward. They help bring a pond to life during darkness and are perfect for highlighting any fish.
LED flood lights have wide beam angles and are great for lighting large bush areas that line the side of a building. Flood lights create a vast amount of light so are often used to enhance safety and security.
Hardscape lights are typically attached to stone surfaces using mounting plates. Hardscape lights are best utilised on the underside of a lipped stone wall or on stone steps.
Path lights can be used to enhance the look of your garden and are not limited to path use. While path lights are commonly used to make walkways obvious to the eye, they can provide a gentle glow around small plants and rocks.
Recessed step lights help to increase visibility around decks and deck steps. They're available in a variety of designs, with open, louvered, and eyelid face plates for directing light to a chosen area. Recessed step lights are used just as much for the aesthetics as they are for safety.
Motion sensor lights are used to illuminate a wide area upon movement. This lighting fixture is great for security purposes, deterring any potential criminal activity.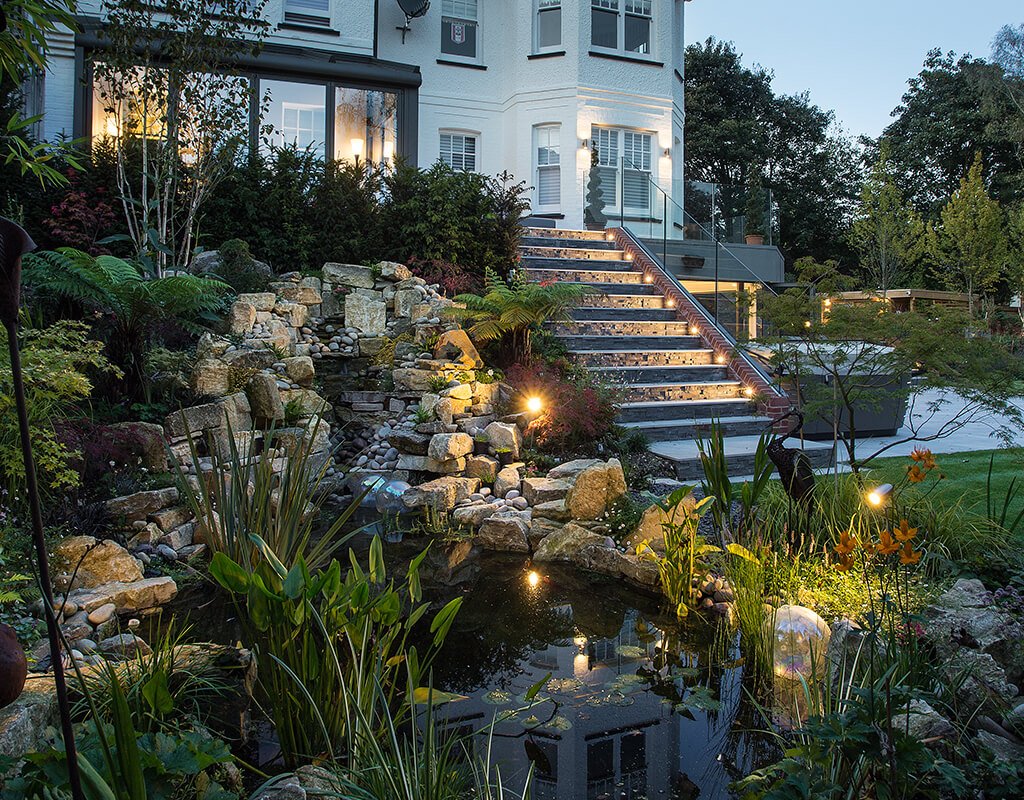 How far apart should path lights be placed?
This all depends on the size of the path and the effect you want to create. As a general rule, path lights should be spaced six to eight feet apart to keep your pathway well-lit during darkness. For a vivid lighting effect, opt for small gaps between each path light.
How many lumens do I need for landscape lighting?
The level of lumens required to effectively light your outdoor space varies from fixture to fixture. Although lighting design shouldn't follow rigid templates, there are general guides to help create an excellent landscape lighting scheme. Below is how many lumens we recommend per lighting fixture:
Path lights – 100-200 lumens
Step lights – 12-100 lumens
Flood lights – 700-1300 lumens
Underwater lights – between 200-400 lumens
Hardscape lights – 50-185 lumens
General landscape lights – 50-300 lumens
Motion sensor lights – 400-700 lumens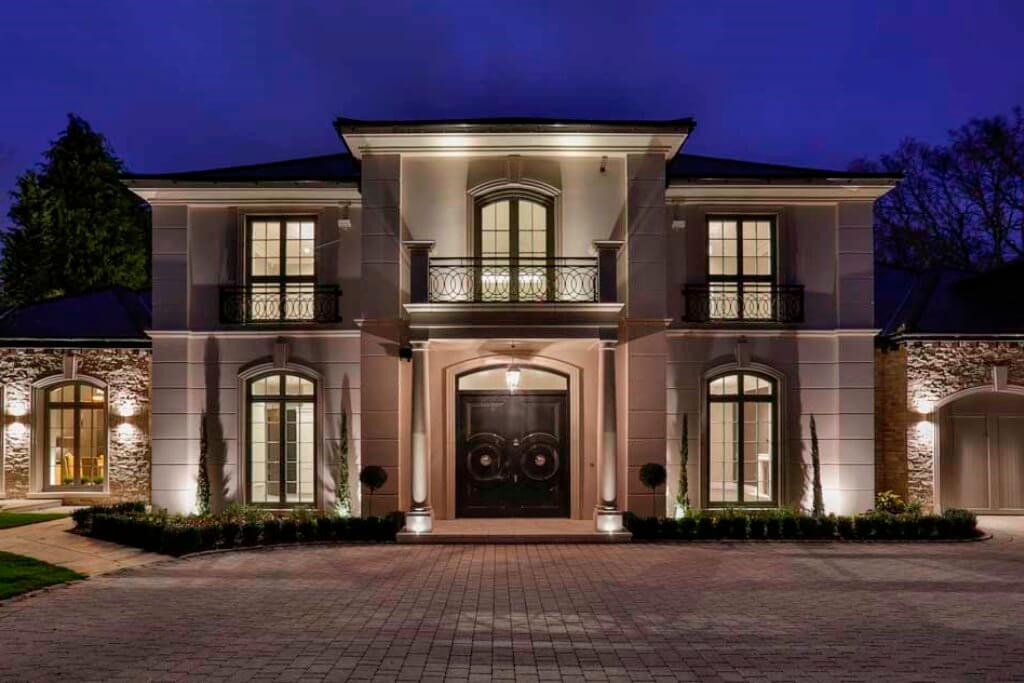 What wattage should landscape lights be?
The level of wattage used to light a specific outdoor area really depends on the size of the area and what you're lighting. If you're looking to flood a large lawn with light, high wattages can be used from 80 watts and upwards. When lighting a small/ medium sized garden in gentle to moderate light, lighting fixtures between 40 and 80 watts are recommended. However, using fixtures below 40 Watts can help reduce your energy consumption and minimise light pollution. This can't be achieved for all landscape lighting, but pathways can be efficiently lit using a series of 20-watt bulbs.
Does landscape lighting add value?
Landscape lighting design provides a warm ambiance to a home, enhances structural details, and provides an extra level of security. Even a beautifully lit driveway and walkway can draw the attention of potential buyers. Numerous studies have been conducted around the aspects that add value to a home and landscape lighting is certainly one of them. The National Association of Home Builders conducted a survey that showed 90 percent of home buyers found outdoor lighting one of the most desirable exterior features of a house. The bottom line is, a well-maintained garden with professional landscape lighting will increase the value of your property.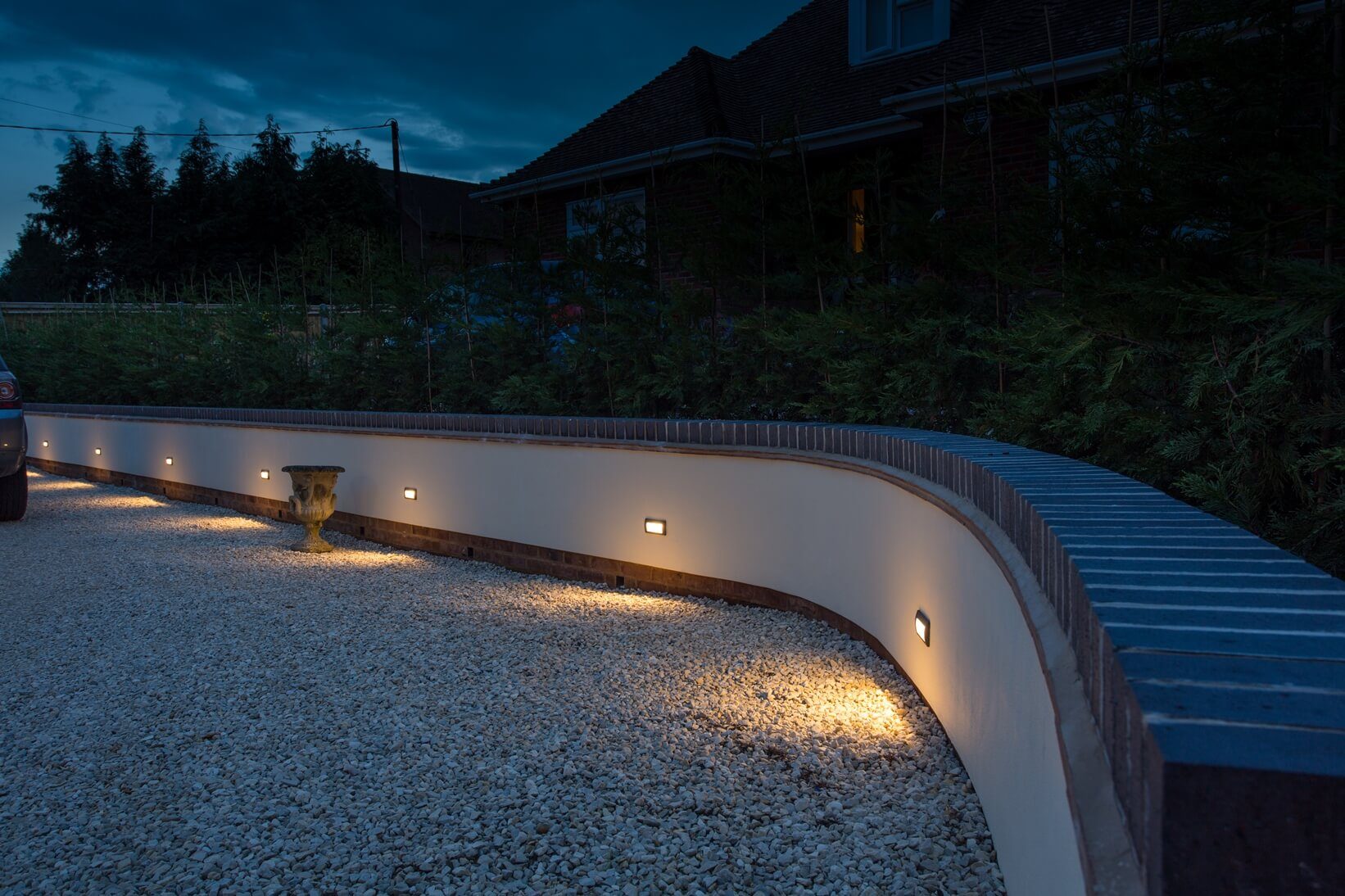 Landscape lighting design by Hampshire Light
At Hampshire Light, we specialise in landscape lighting design. With over 20 years of experience creating decorative, functional and security driven lighting, we tailor your lighting scheme to fit the requirements of your outdoor space. If you're looking for a passionate, experienced lighting design consultancy, contact us today and book your complimentary design consultation.