As smart automation technology continues to accelerate, more and more homeowners are beginning to enjoy the benefits for themselves. From smart speakers like Amazon Echo, Alexa, and Apple HomePod to wider home automation systems like Control4, there are now several approaches to controlling the main functions of your home.
For some, the thought of installing new technology into your home can be quite daunting. Perhaps you're looking for a starter system to test the water? If so, starting with basic home lighting controls is what we recommend.
Home lighting control systems offer exceptional convenience and can even help improve home accessibility too. Here, we explore how you can get started with home lighting controls.
The basics of home lighting controls
At the most fundamental level, home lighting control systems give you the ability to manage your home's lighting altogether. This enables you to not only control the lights in a given room, but every single light across your home. Each light can be turned on/off, have the brightness adjusted, and in most cases, the colour adjusted – all from a single application or control panel.
When it comes to choosing your home lighting controls, you first need to decide on a wired or wireless system.
Wired systems require cabling to link your fixtures together and connect them to your control switch. Although extra components and increase installation time is needed, once installed, wired systems offer a robust and reliable lighting scheme for your home.
Wireless systems are easier, quicker, and cheaper to install. The trade off? In principle, a slight reduction in reliability over the connection to your devices. However, having specified many wireless control systems to homes and establishments across Hampshire, we haven't noticed a difference and can't recommend them enough.
With integrations available for a wide range of lighting products, intuitive control panels, and smart lighting capabilities, wireless systems such as Lutron RA2 and Rako offer reliable connections for all.
All in all, before a decision is made, you'll need to size these factors up and choose a system that best fits you and your home's needs.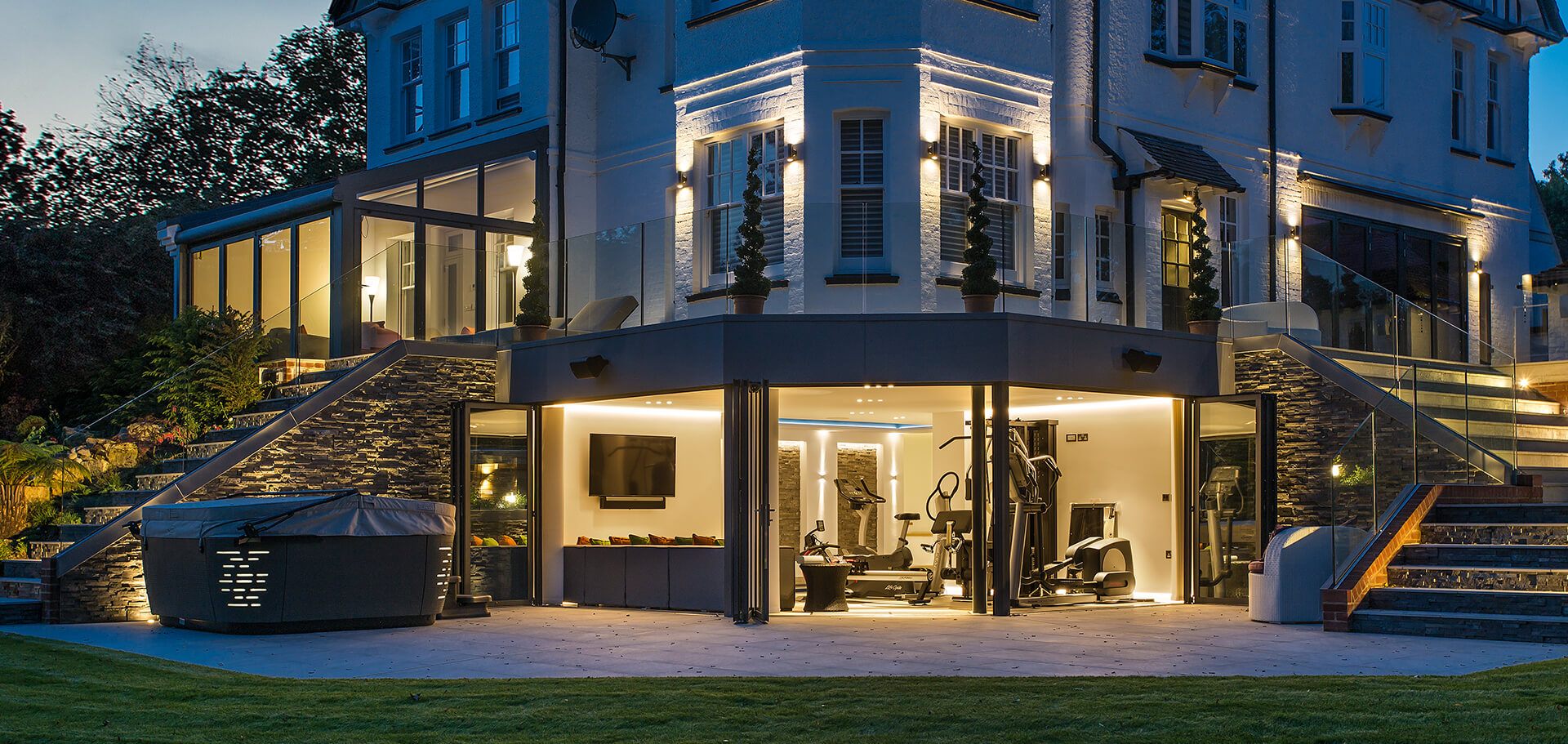 Home lighting control capabilities
With the basics now covered, let's explore the capabilities of home lighting control systems and how they can integrate with full house systems.
The importance of dimming
A crucial part to controlling your home's atmosphere comes with lighting and the ability to dim/brighten to your desire. This allows you to customise the level of light each room receives at any given time. For instance, dimming the light in your living room or bedroom an hour before sleeping creates a relaxed and comfortable environment to help improve quality of sleep.
Controls are key
A good lighting control system must be simple to use. From wall-mounted keypads, to smart phone apps and handheld remotes, each means of controls should allow for clear and intuitive light management for your home.
Enhance your home with lighting scenes
Programming scenes for your home is arguably the greatest advantage to lighting control systems. With just a simple button press, 'evening' mode could be activated, dimming your lamps and illuminating the wall behind your television.
Take a look below and see lighting controls in action for yourself.