With today's advancement in technology, lighting control systems offer homeowners complete control over how their space looks, feels and functions. But for many still controlling their lights manually, shifting to a lighting control system can raise many questions.
As award-winning lighting designers with over 20 years experience and expertise in lighting control systems, we're here to guide you through everything you'll need to know when it comes to lighting controls for your home.
In this complete guide, topics we cover include:
What are lighting control systems?
The basics of lighting control: Wired vs Wireless
Benefits of home lighting control
Incorporating home automation with lighting control
How much does home lighting control cost?
Can I install a lighting control system myself?
What are lighting control systems?
Lighting control systems create the ability for all of a home's lighting to be controlled together. For example, one press of a button can turn on 8 separate lights, illuminating an area with the ideal level of brightness for the task at hand. Whether that be watching tv, cooking, or reading a book, lighting control systems allow you to set the perfect mood for your occasion.
An important thing to note: Lighting control systems aren't limited to controlling a single room or area. With an intelligent lighting control system, you can control the lights throughout your entire home with a single push of a button. For example, this allows you to set a 'bedtime' mode that could switch off all lights across your home. This eliminates the need to go from room to room manually switching them off.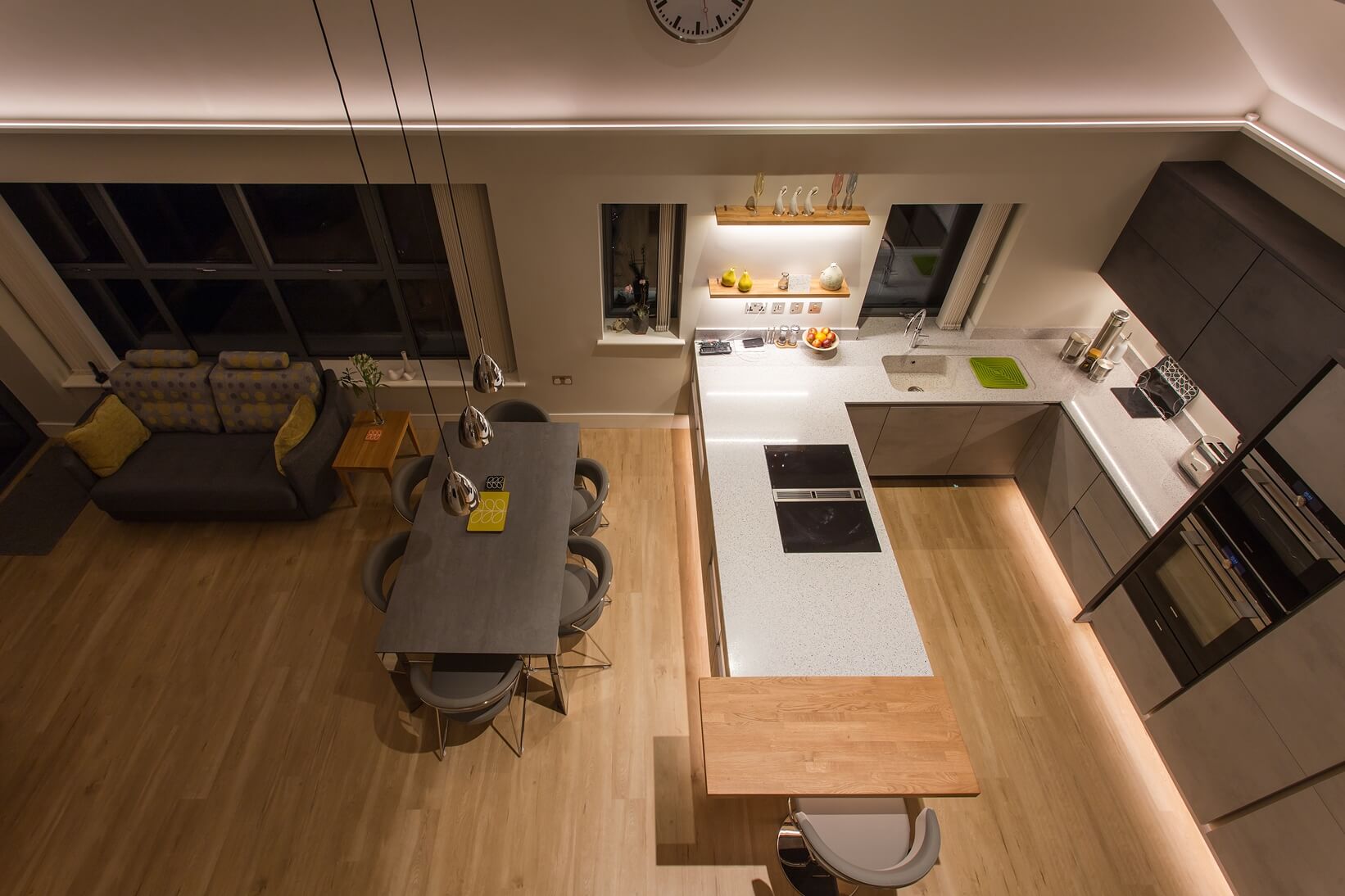 The basics of lighting control: Wired or wireless?
When deciding to implement lighting control for your home, you need to explore both wired and wireless options.
Wired systems require cabling to link your fixtures and control switches together, costing you more due to the extra components and installation efforts involved. Once installed, you'll have a reliable lighting control system for your home.
Wireless lighting control systems are both cheaper and easier to install. Why? There's no need for wiring, meaning the complexity and time it takes to install is reduced. However, this come with the drawback of a limit to the number of devices you can include in your system. For the perfect home lighting control solution, you should way up the pros and cons with a lighting design expert and choose the system that best suits your needs.
Benefits of home lighting control
1. Energy saving
The less time your lights are on, the more electricity you'll save, thus the lower your electricity bill will be. Lighting control systems make it easy to know your lights are only on when they're needed.
With intelligent lighting, you can use your mobile phone or tablet to switch off the lights in your home. Perfect for when you've left the house without switching off your lights. On top of this, timers and sensors can be programmed in sync with your schedule to ensure optimal energy savings. Say you leave for work at 7:30am on weekdays, with intelligent lighting controls, you can ensure all lights are switched off as soon as you leave.
Also, be sure to take advantage of dimmers. Having the ability to control the intensity of your lights goes a long way when limiting energy usage.
2. Scene setting
With lighting control systems, you can programme certain lights to create your ideal settings for daily activities. With a single push of a button you could activate 'TV' mode, which could be set to dim the lamps and illuminate the space behind your TV. There are several scenarios you can programme your lighting controls for, which may include:
Watching TV
Cooking
Dining
Reading a book
Working
Relaxing
Here's an example of a recent lighting control system designed by us at Hampshire Light. We worked alongside our client closely to distinguish their requirements and designed 5 scenes tailored to their kitchen activities.