In 1879, Thomas Edison built his first high resistance incandescent electric light. It worked by passing electricity through a thin platinum filament in a glass vacuum bulb, which delayed the filament from melting. Although the lamp only burned for a few short hours, this was a huge step towards the incredible lighting production that we see today.
Since then, the last 15 years has seen the biggest advancements in lighting. Lightbulbs are now smart enough to listen to our voices, promote a better night's sleep, and work in sync with other smart home technology. Perhaps the most valuable advancement in lighting though, is the improved quality of LEDs. Today's high-quality LEDs deliver impressive energy savings of up to 90%, but that's just scratching the surface.
LEDs are now used everywhere in lighting design. With improved brightness, smaller size, and wide-ranging colour options, LEDs offer lighting designers like us the ability to illuminate your space in many great ways.
1.      Smaller LEDs for versatility in lighting design
LEDs can now be as small as the tip of a pen, allowing for more discreet and precise lighting options. Strips of LED lights can be placed underneath shelves, inside cabinets, around ceiling edges and just about any other place you can imagine.
This great advancement in LEDs allow us to distribute light where it's most needed, instead of attempting to fill a room with a broad wash of light. LEDs also give us the ability to enhance stand-out features and create stunning effects such as the example below – a lovely kitchen featuring a magnificent floating fireplace.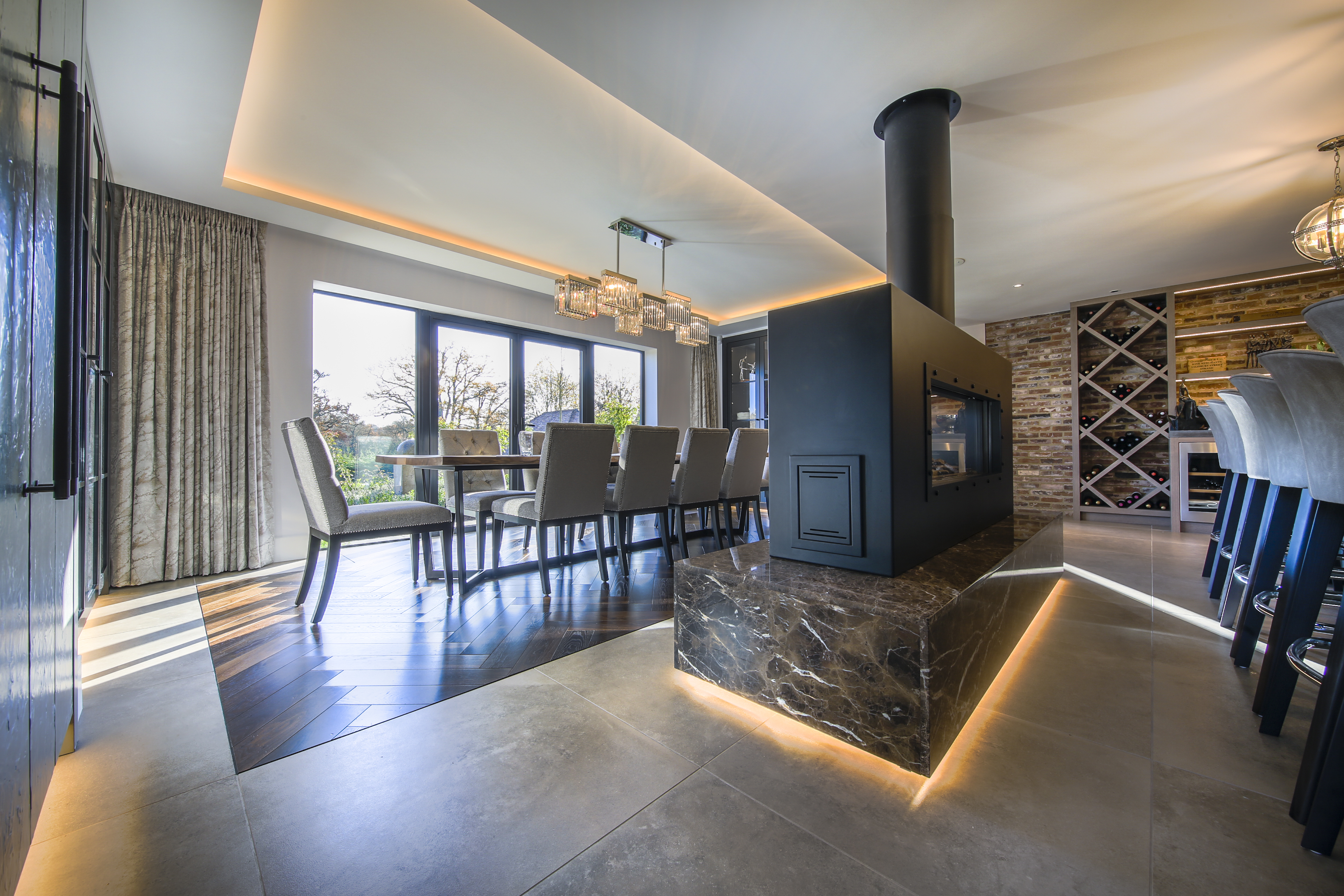 2.      Brighter lights with LED lighting
LEDs have become smaller in size, but that doesn't mean they've lost power. They've actually become brighter, allowing us to deliver functional light in different ways.
Brighter LEDs can be extremely useful in many situations. When hidden underneath kitchen cabinets, LEDs provide a well-lit countertop and eliminate shadows, creating the perfect environment for preparing food, washing up, or cleaning.
When looking to purchase LED bulbs, look out for the equivalent incandescent bulb wattage mark, such as "60-watt equivalent". This gives you a good indication of how much light you'll receive. On average, an incandescent bulb produces around 14 lumens per watt, compared 74 lumens for LEDs.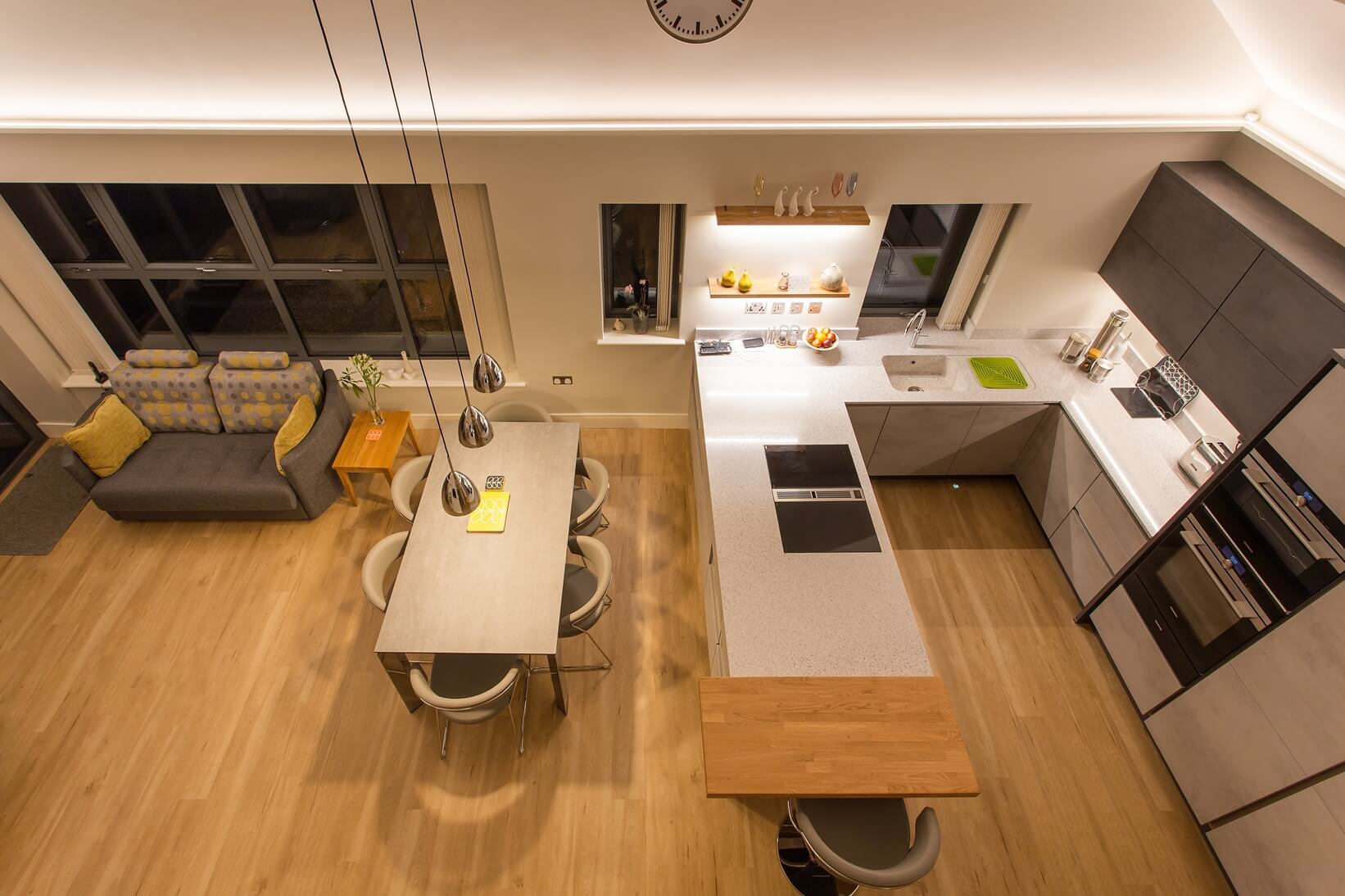 3.      Wide colour range with LED lighting
By connecting your mobile to smart LEDs via Bluetooth, or using a remote control, you can instantly change the colour of your lighting scheme. Red, blue, green, yellow, white and any colour in between can be used to create the atmosphere you desire.
On top of simple colour selection, you need to think about colour temperature. Colour temperature is a measurement, in degrees Kelvin (K), of the perceived warmth or coolness of a light. When it comes to LEDs, they're typically available in two main colour temperatures: warm white (3,000K) and cool white (6,000K).
As a simple rule of thumb, warm white should be used in environments where you relax and unwind, such as the living room, bedroom, or dining room. Whereas cool white should be used in areas where concentration is needed, such as the kitchen, bathroom, or in an office.
For more information on colour temperature, take a look at one of our recent lighting design tip articles where we explore how colour temperature can influence your interior.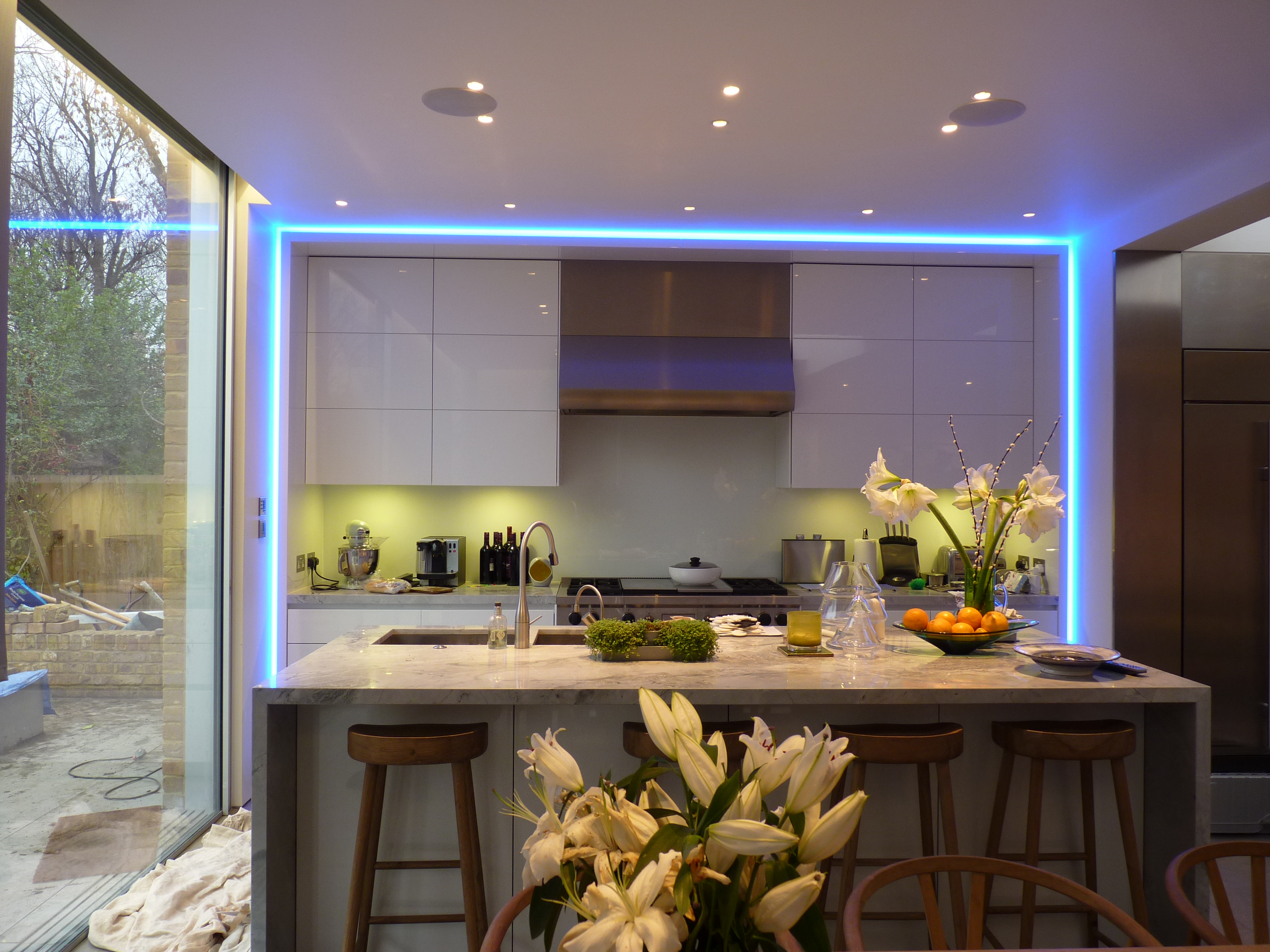 Lighting design consultancy
Are you looking to transform your space with exceptional LED lighting? At Hampshire Light, we have over 20 years' experience providing the very best lighting designs across Hampshire and the surrounding counties. We understand the art and science behind lighting to ensure we produce the very best lighting for your requirements. Why not book your complimentary design consultation with an expert today?